It was late may and the sun was beginning to break through a thick cloud that for days had engulfed Arthurs Pass. The first day of a new season will always be memorable. You've been dreaming of this moment since you were forced to retire the sticks after the prior seasons closing day. After an hour and a half, the car becomes a dangerous and restricting place. It's only fair that as your eyes gaze upon Arthurs peaks, dressed in a fresh winter coat, you want to move. Move up, down, sideways, danceways… It's simple muscle memory and sometimes you just cannot control it. Anticipation and expectations for the day ahead were high. Naturally, we ended up having a majestic and adventurous first day of skiing - touring fluffy pillows in between the trees (yuuuum), climbing Mt Bruce (at 1630m she blew a bloody gale!), my skis deciding they wanted to be back in touring mode mid-turn in heavy snow (niggly) and of course no pre-season mission would be complete without some tussock skiing to finish! It was also a special day as Holly reached a pretty epic milestone (and bucket list achievement for many skiers) by completing her 12-Months-Of-Skiing. The following photographs tell the story of our unmistakably Southern Alps excursion! Here's to many more... #TheFirstOfMany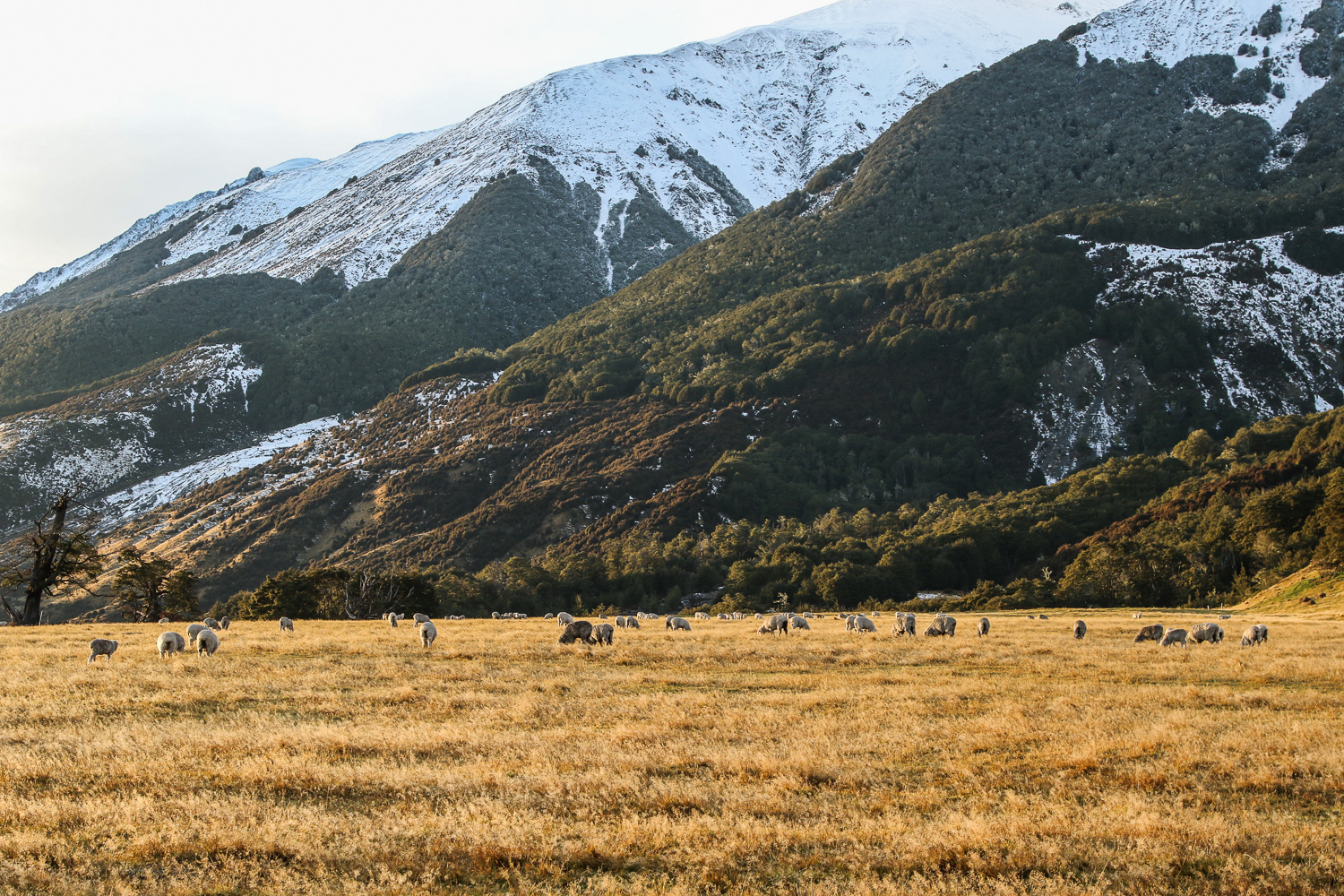 As we pulled into the car park we were greeted by a classic New Zealand alpine scene.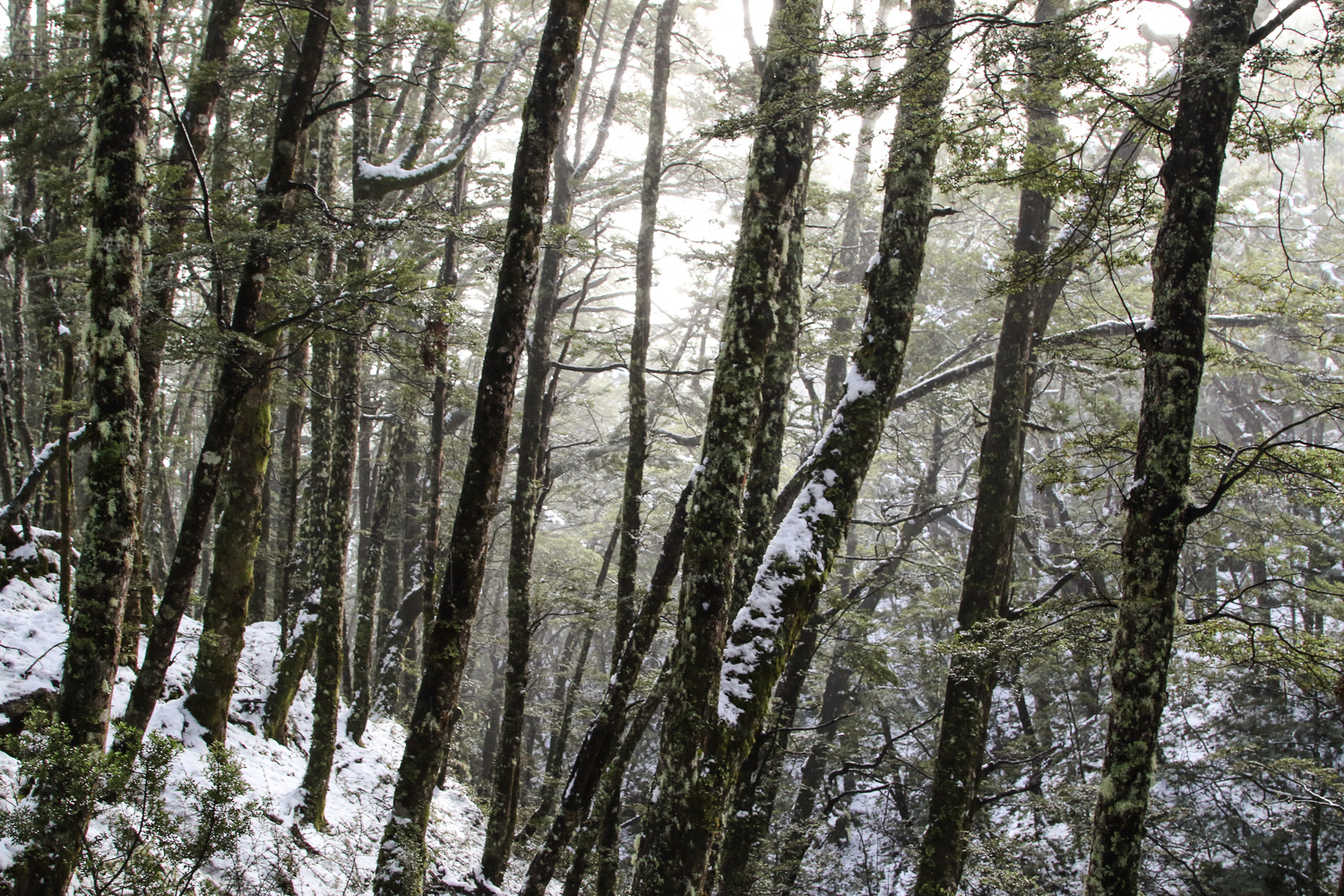 The first hour was spent charging up through the native beech tree forests that cling to the alps legs and valleys. It was simply magical. A snowy mist filled the air reflecting a halo of light that flooded in through the forest's canopy. Snow piles consistently fell down from the tree's high branches as they strained under the temporary weight. I felt like a kid in a candy shop, spoilt and overwhelmed by the possibilities of the situation. It was a pleasure to run around in this naturally-sexy-green playground!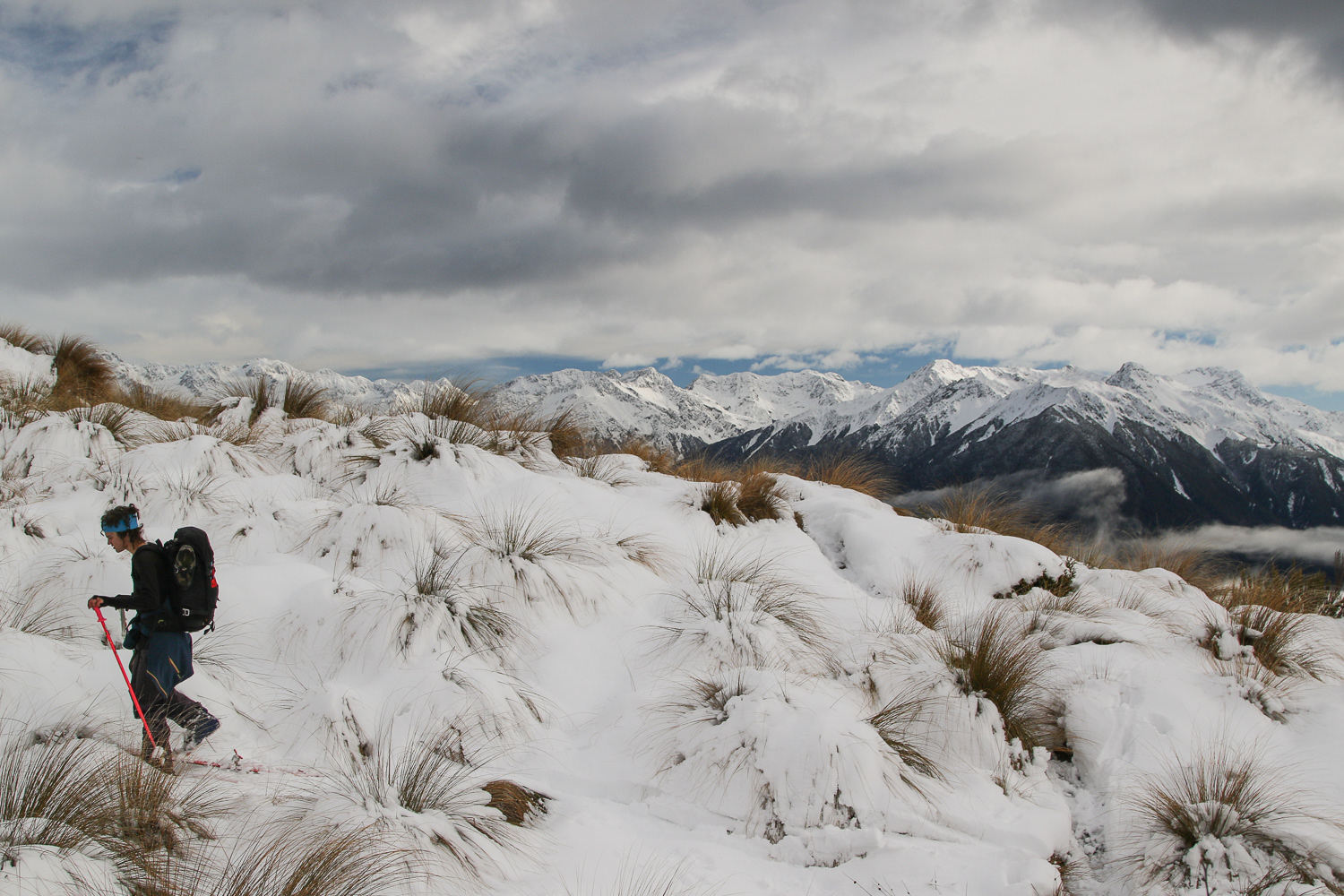 The long slog continued, we couldn't wait to get the skins on and begin some ascending slides... Troy flew up the ridge with his 'fairy wings'.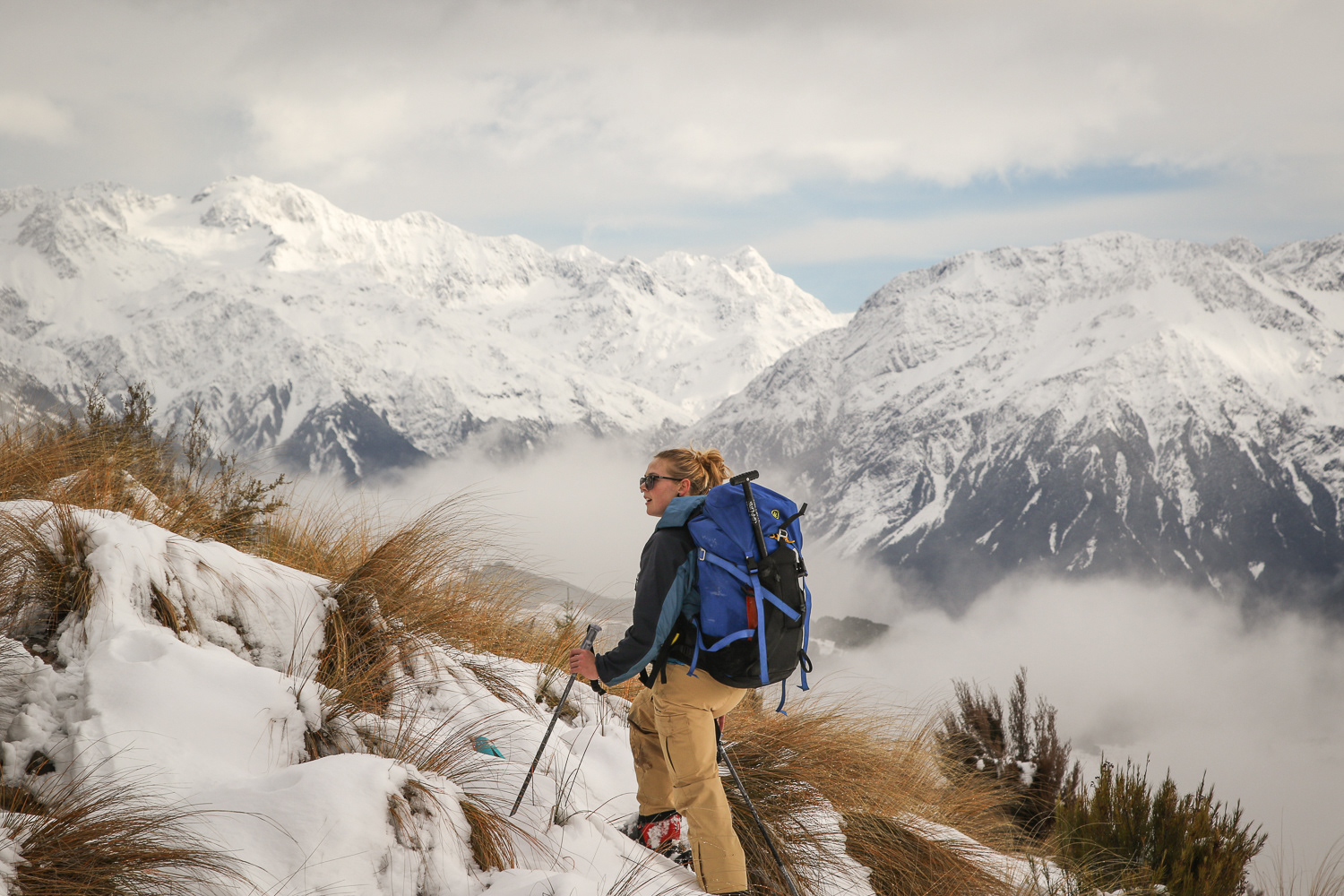 Holly negotiates a thin snow pack while taking in the glorious view!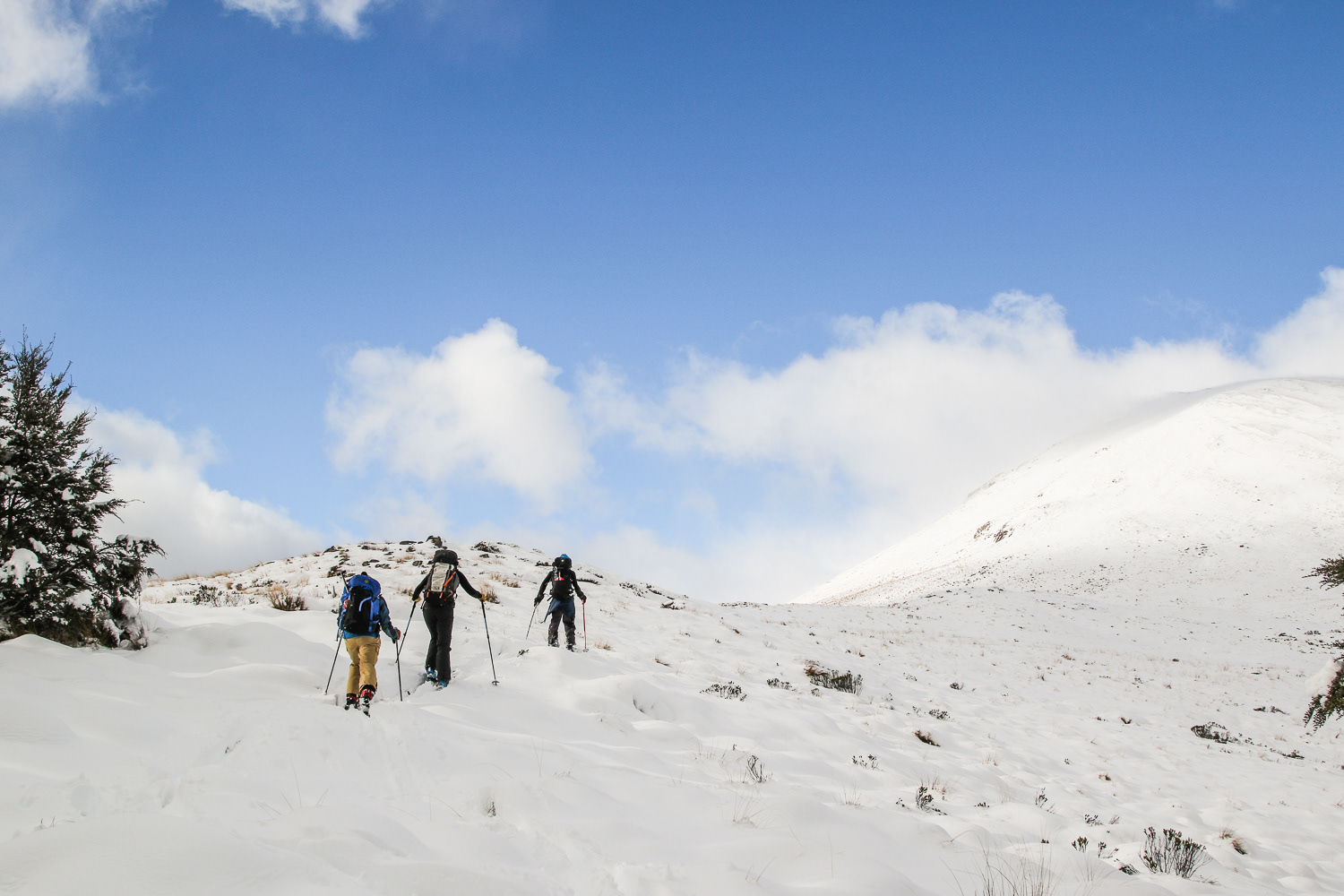 We had made it to fresh and skiable snow! To our delight, due to the gale force winds, much of the snow had settled in amongst the trees. Skinning up all of a sudden became easy again with the prospect of tree-skiing (in New Zealand!?!).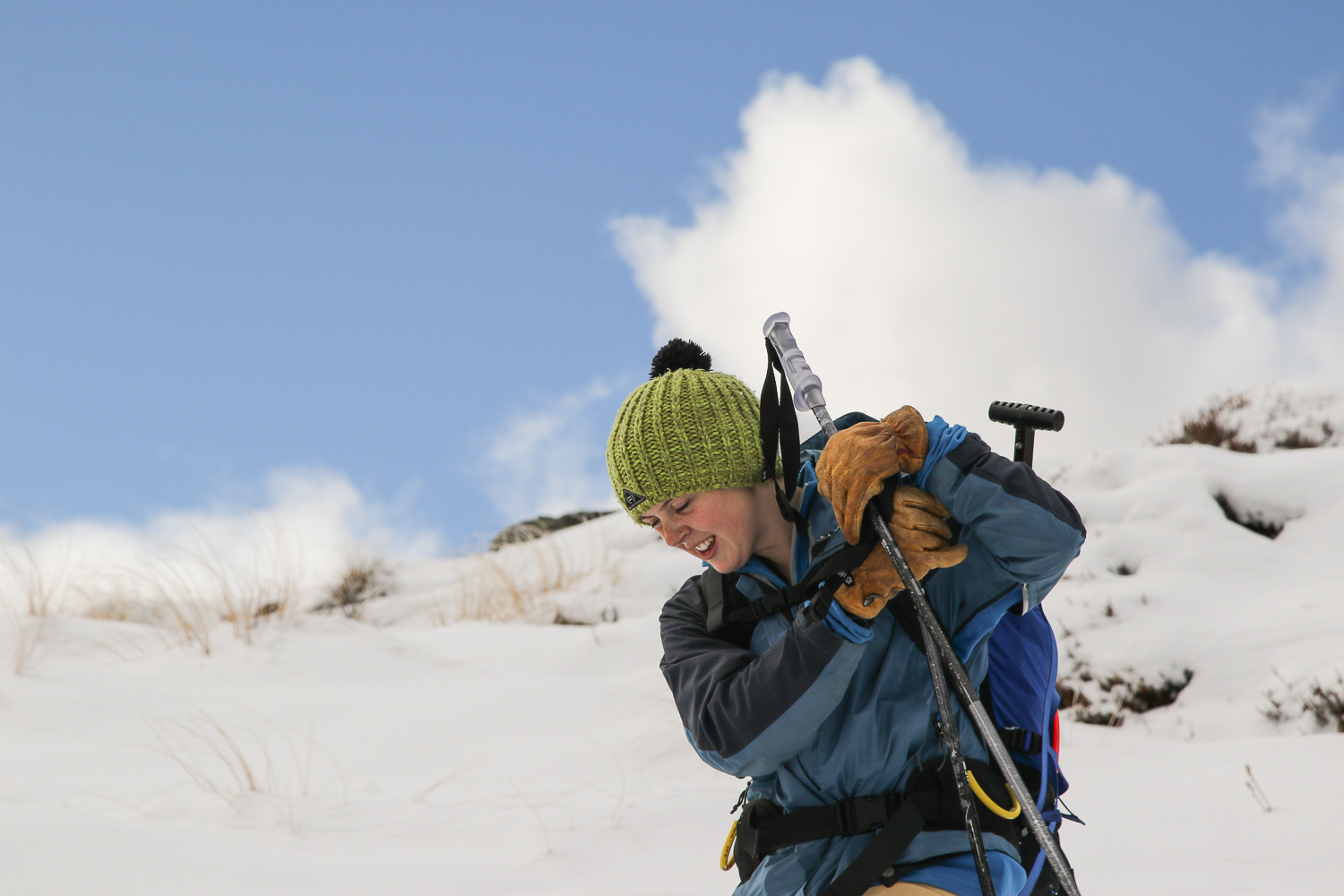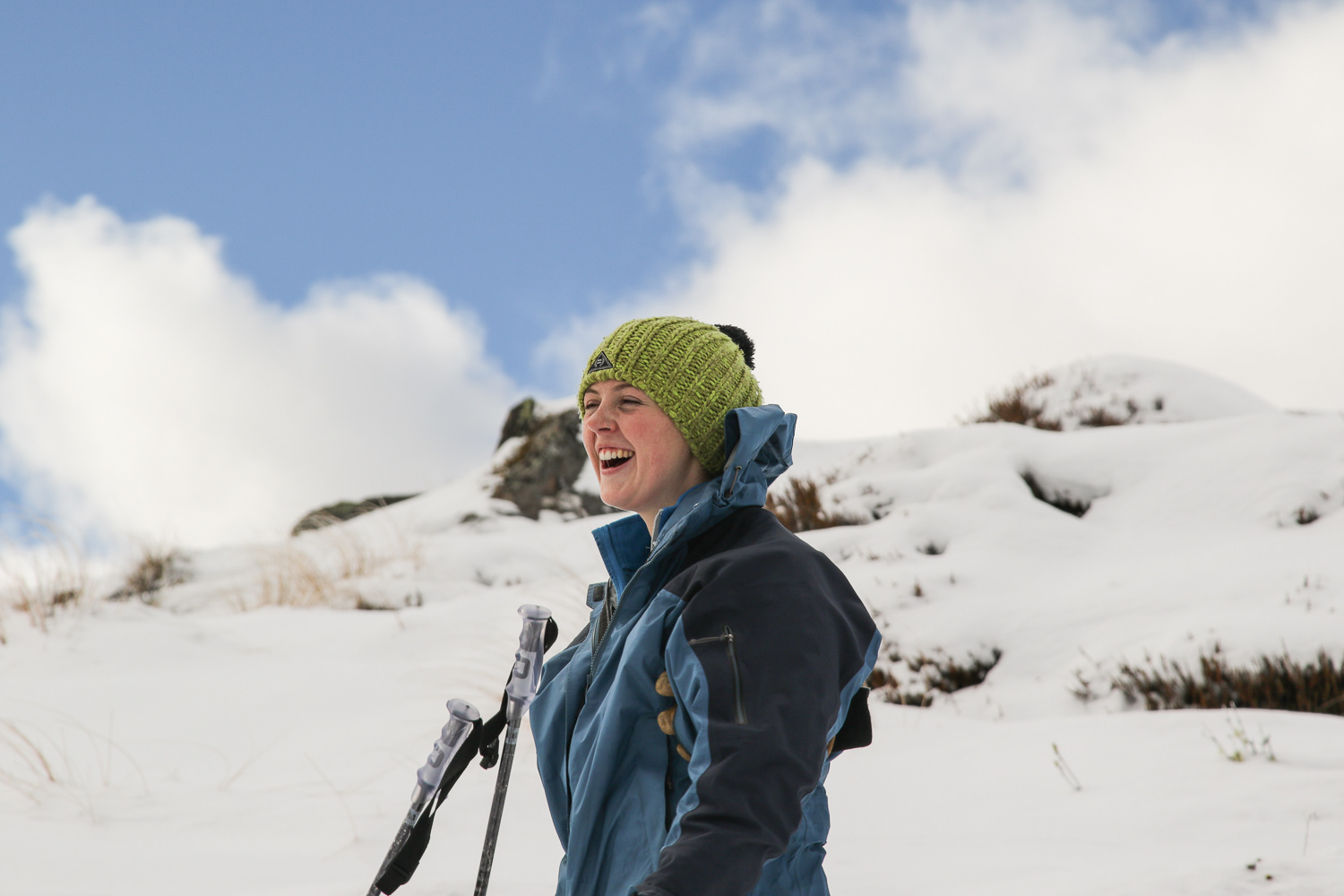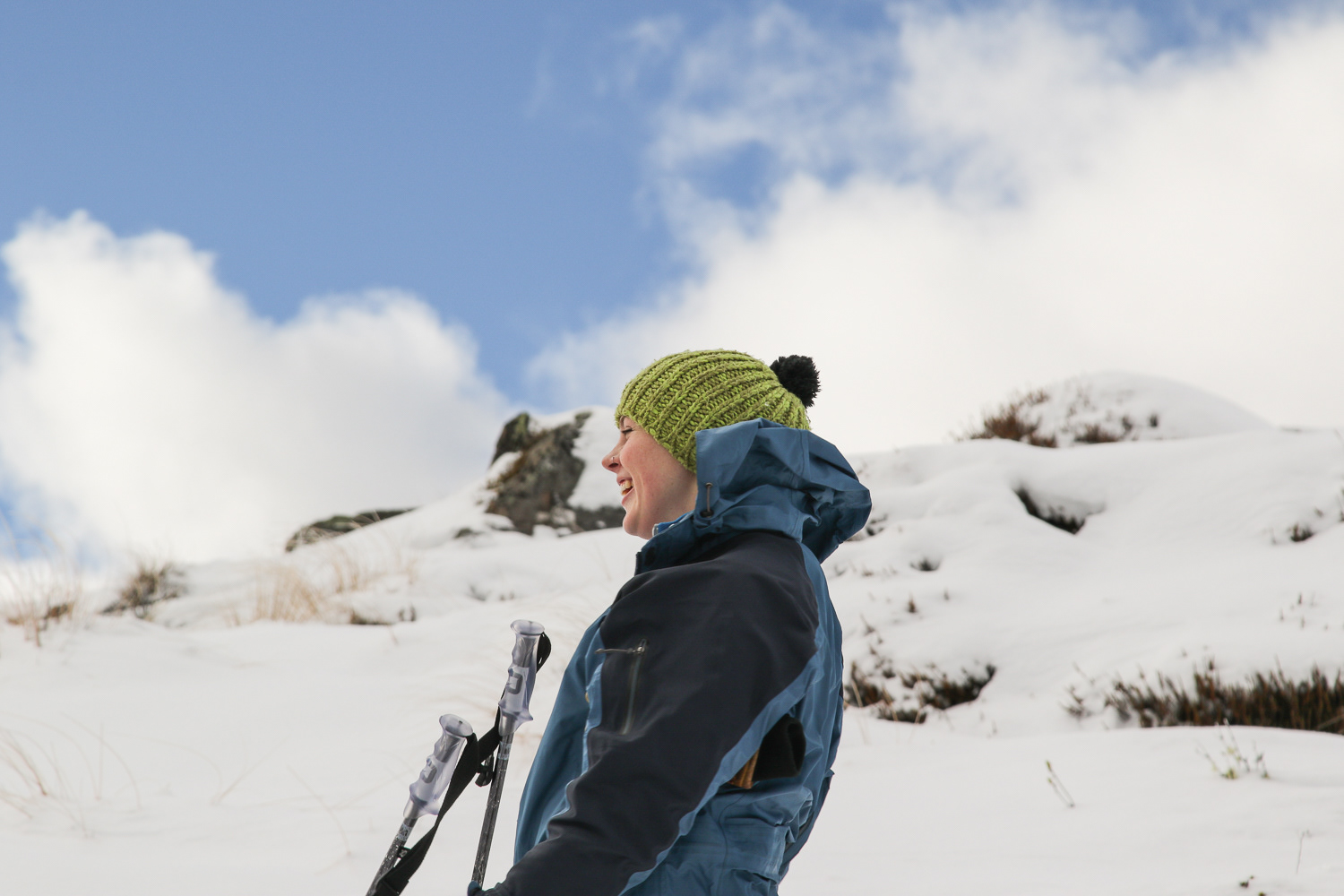 The 3 stages of pack relief! I get a sense of relief just by looking at these.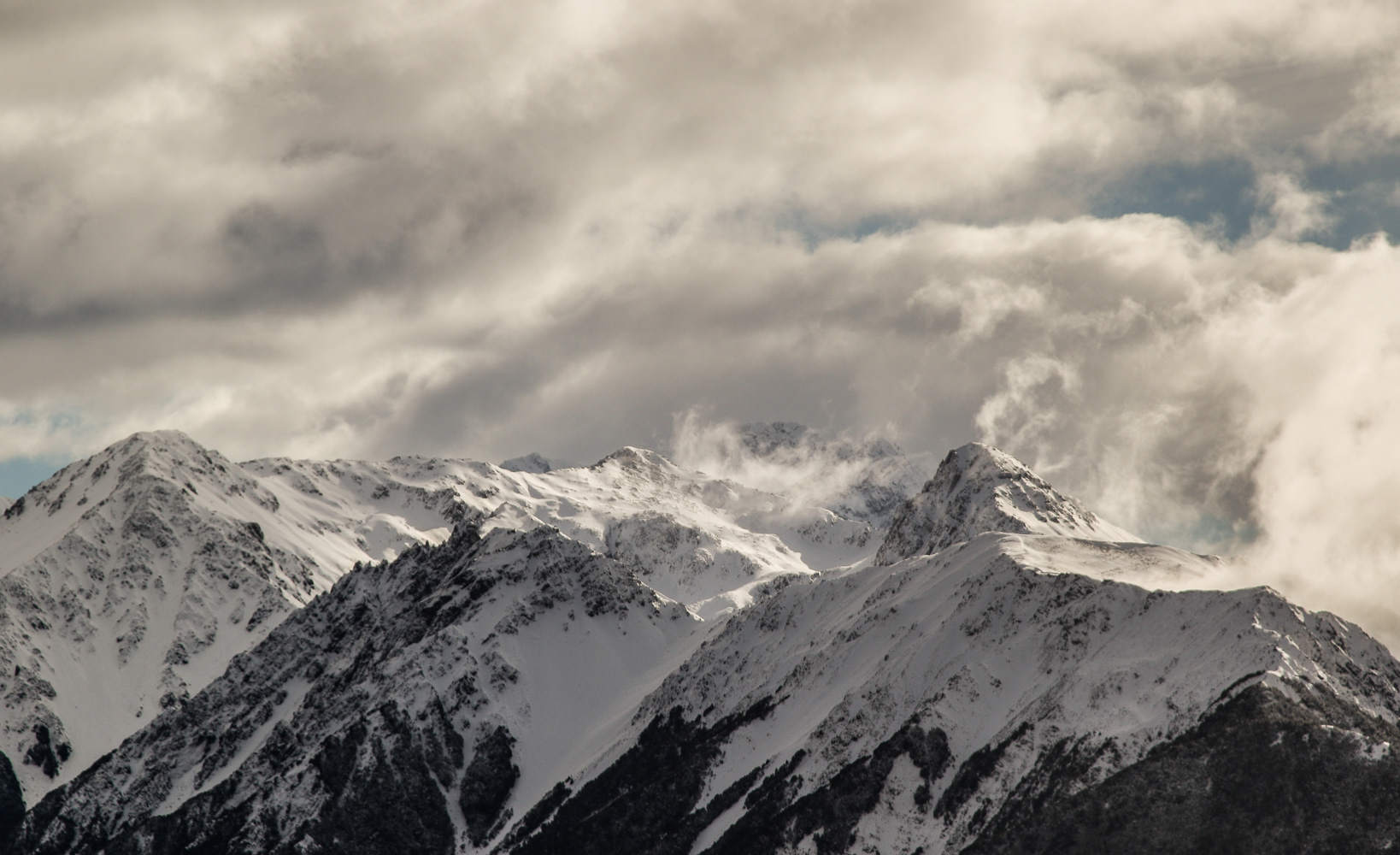 Distant peaks, bowls and basins made for a day of fascination. "Imagine skiing that sometime..."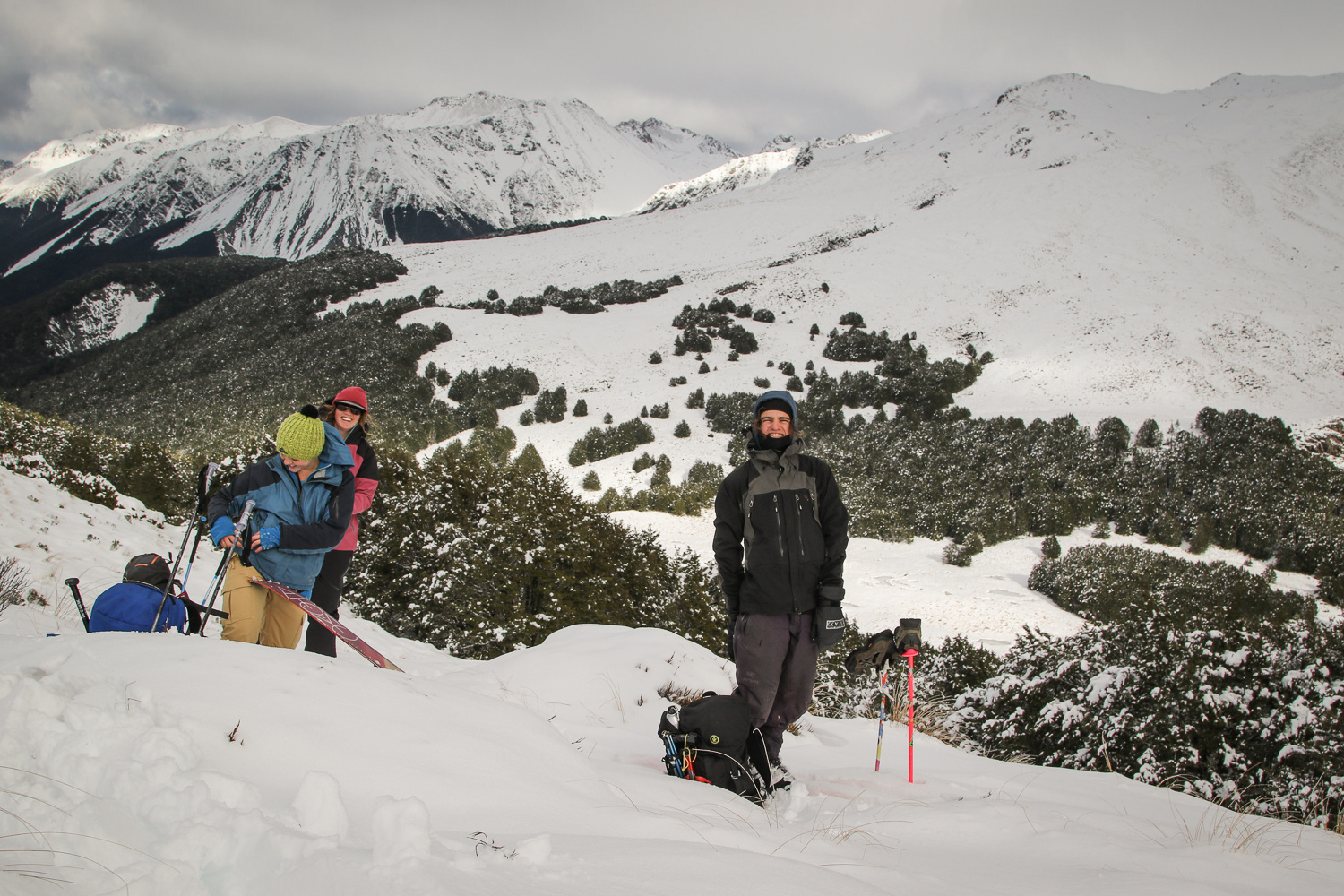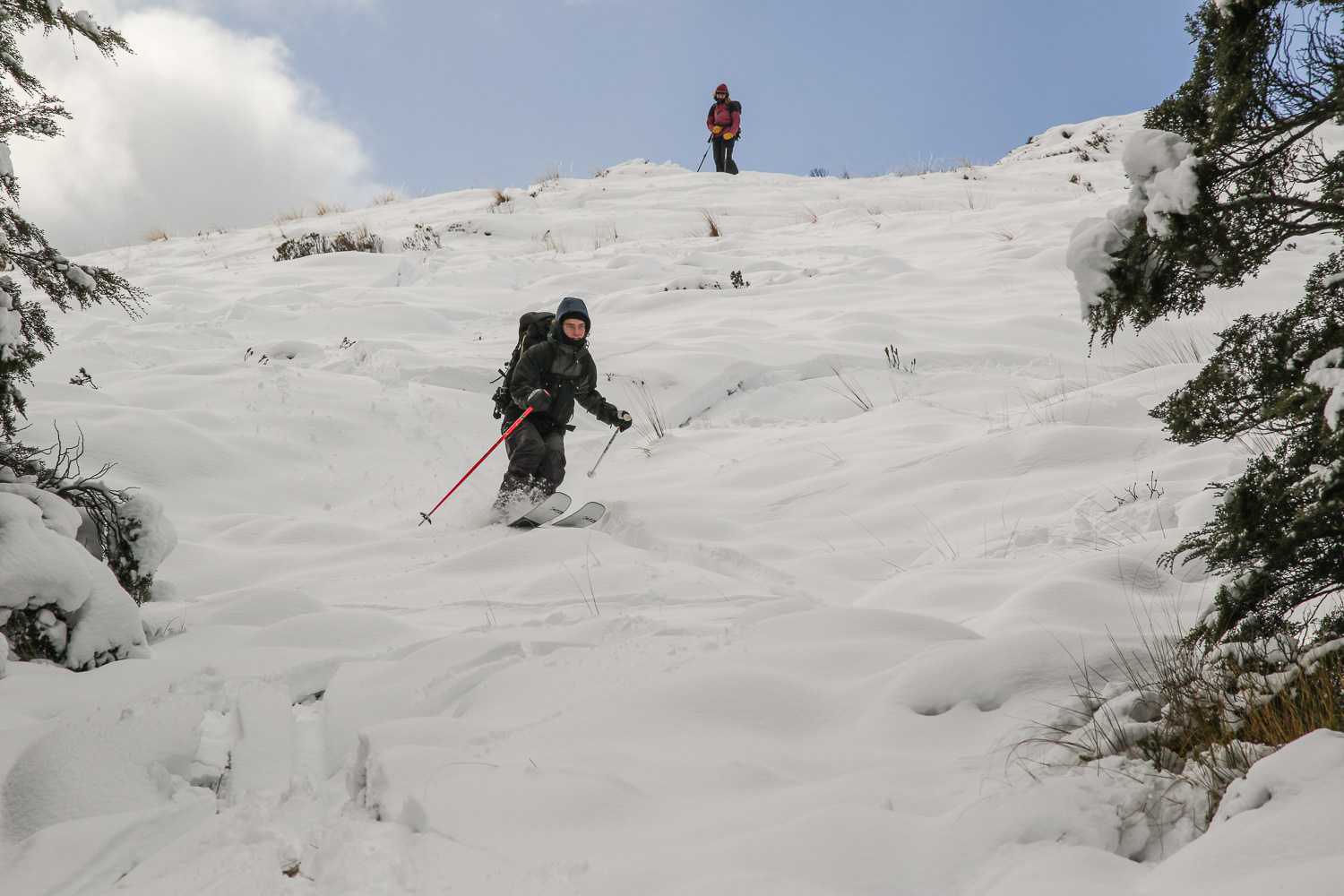 I pulled out the photographer card and managed to score first line through the trees! #pillows. Troy soon followed, just another day in the office for him.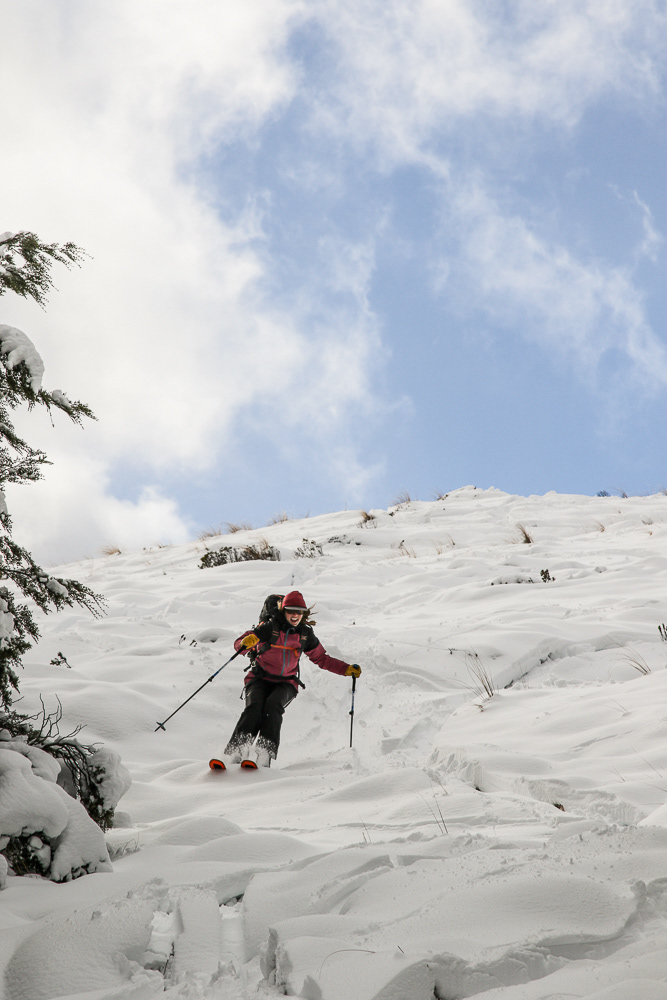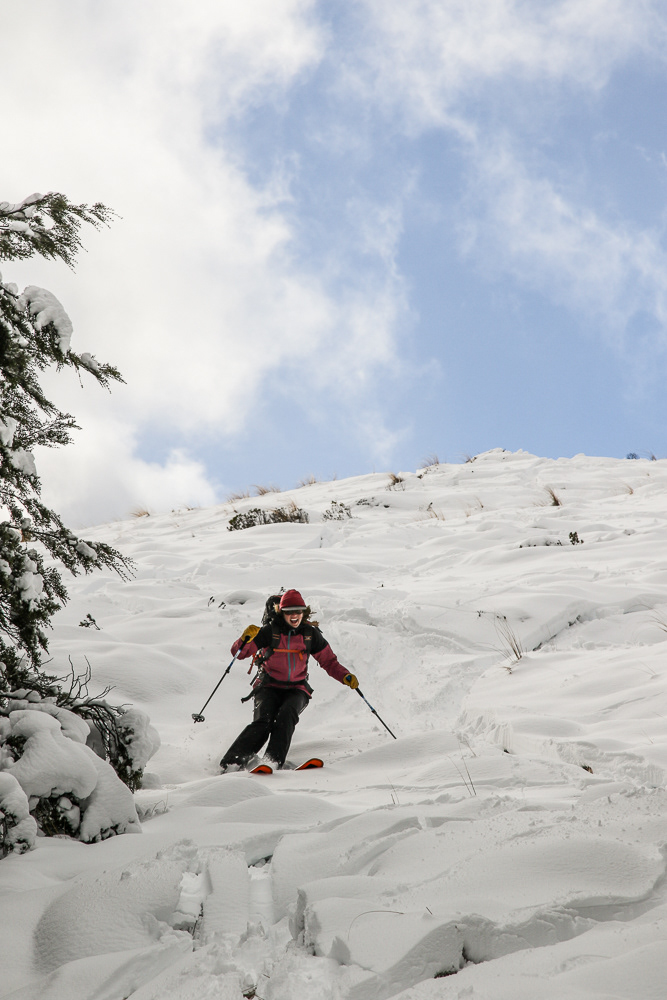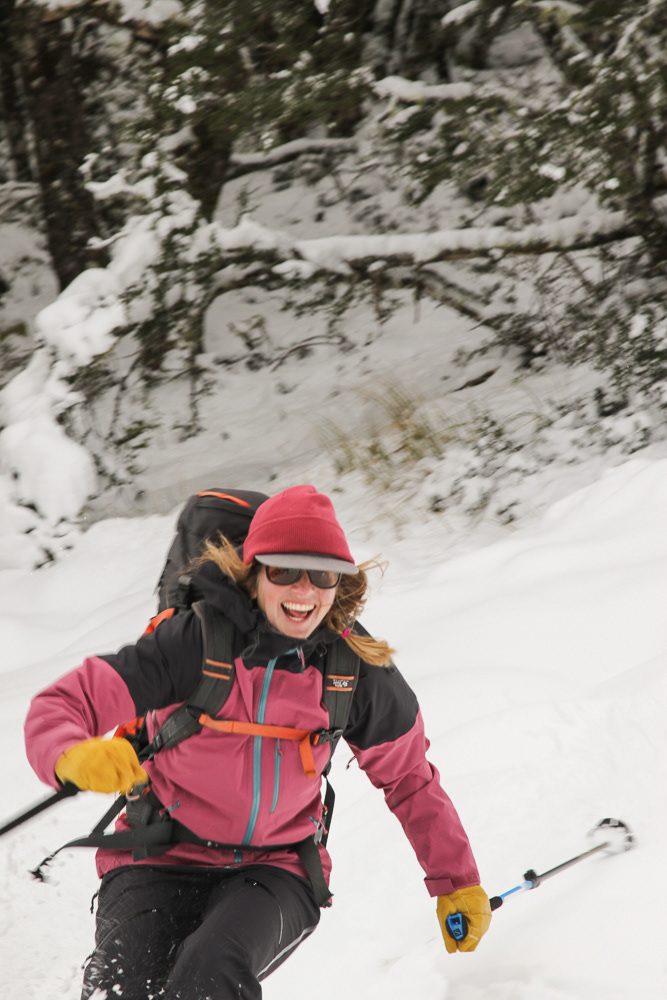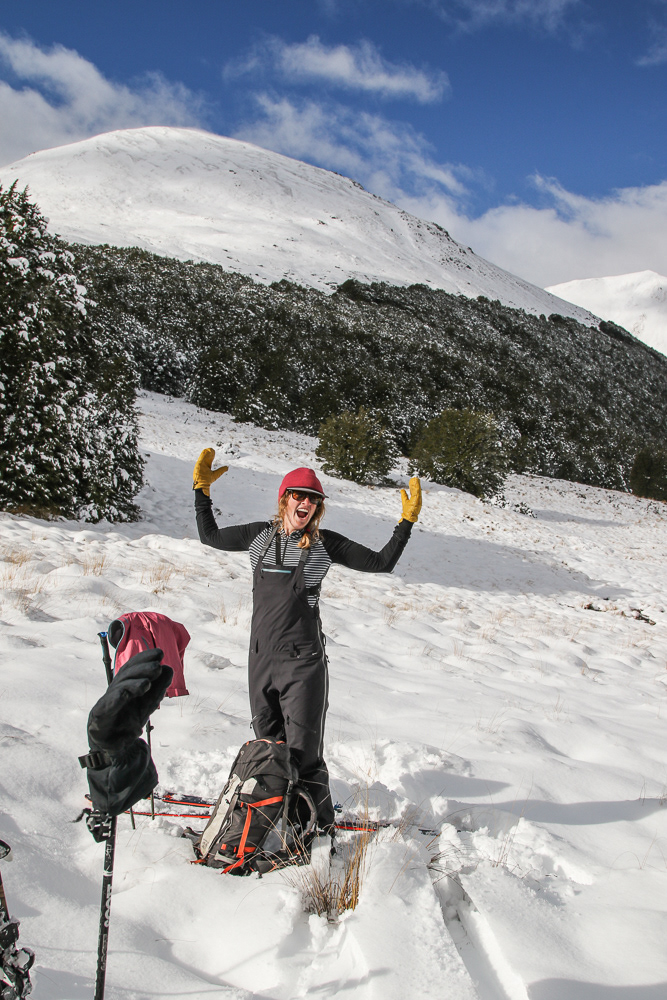 Ali (originally from the States) was the best skier of all of us, leaving the snow caressed yet destroyed. You might be asking yourself, "how the hell is that even possible?" You'll have to ask her.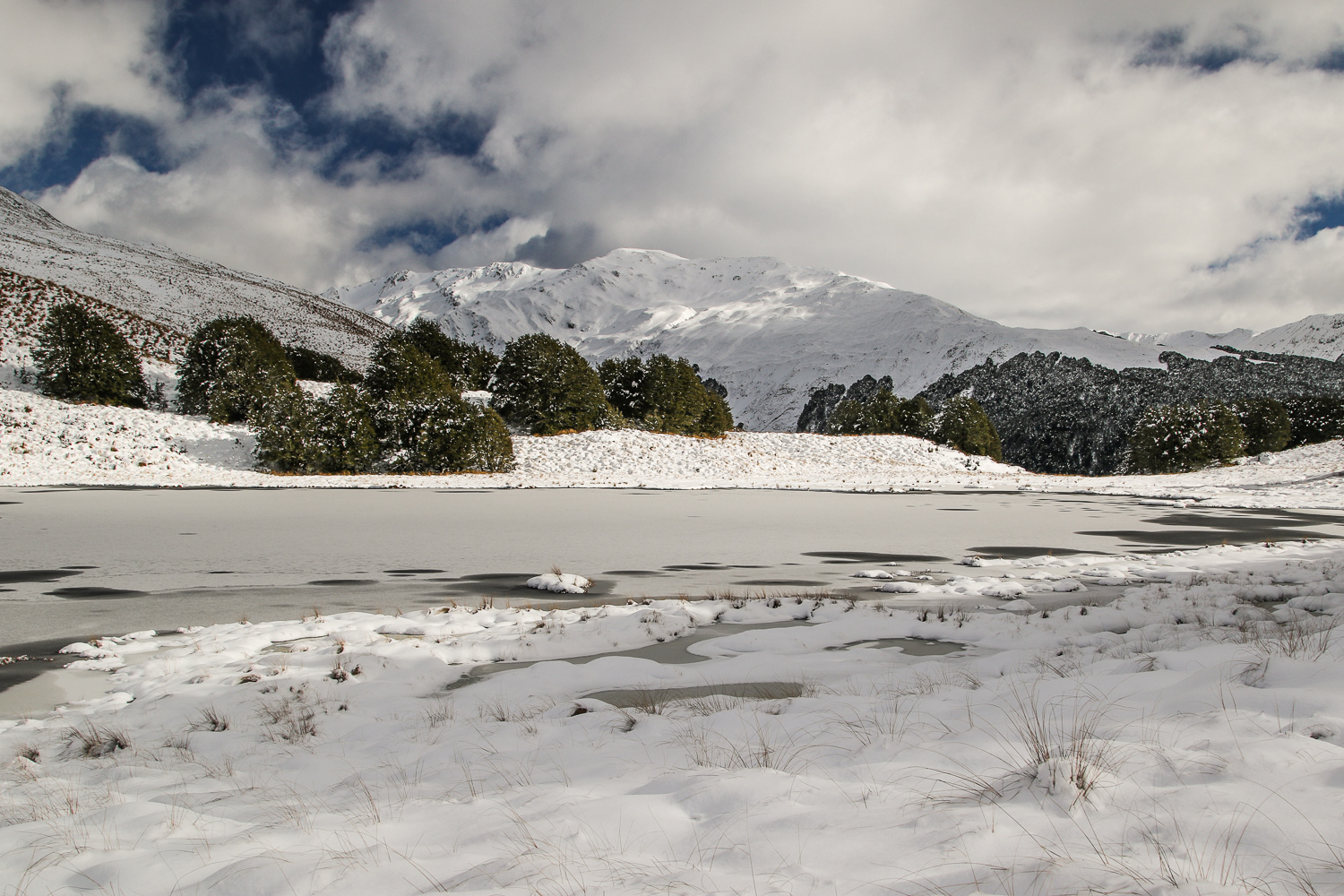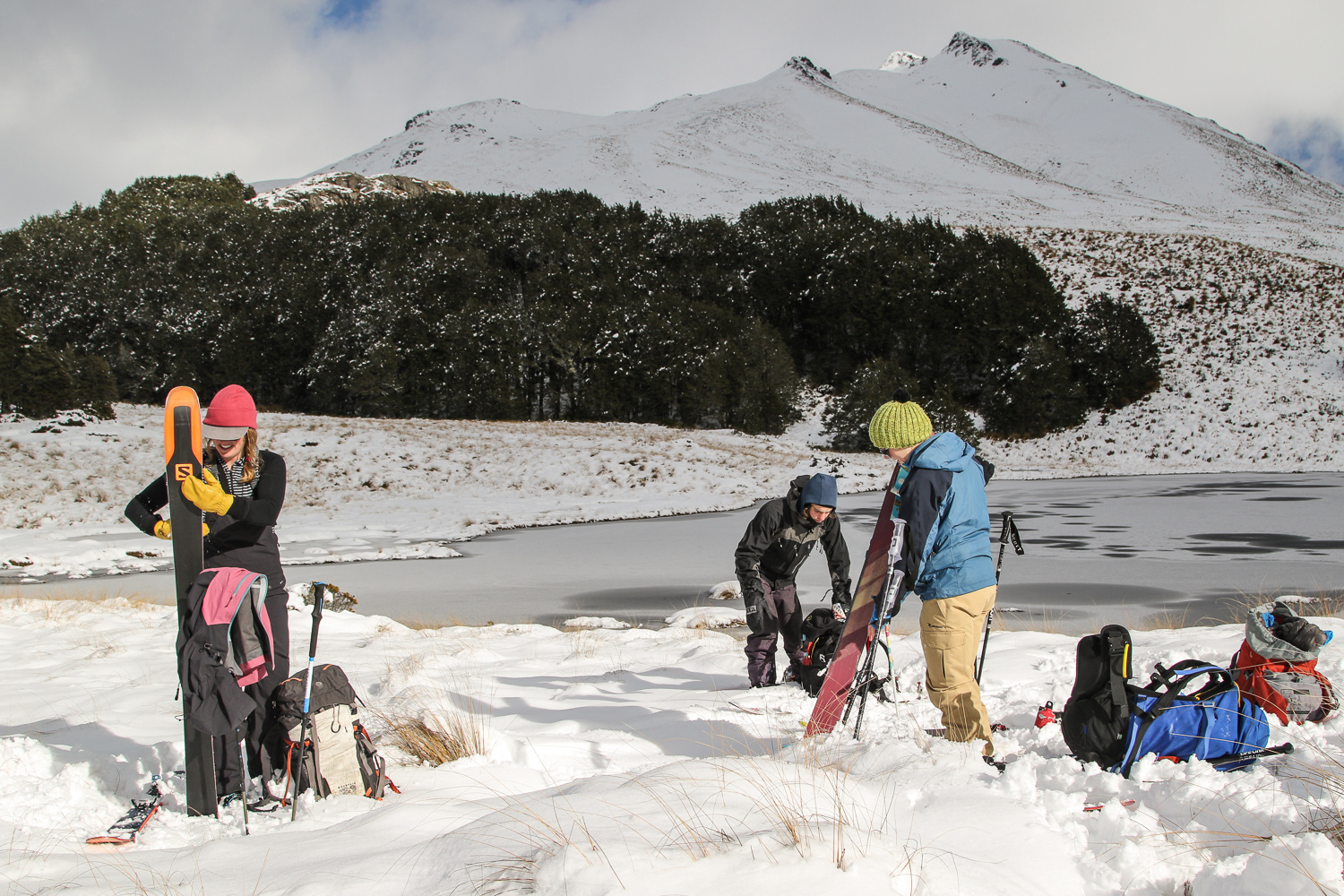 De-skinning at the bottom of our run through the trees. The scene was again surreal, this time with a partially frozen lake right behind us.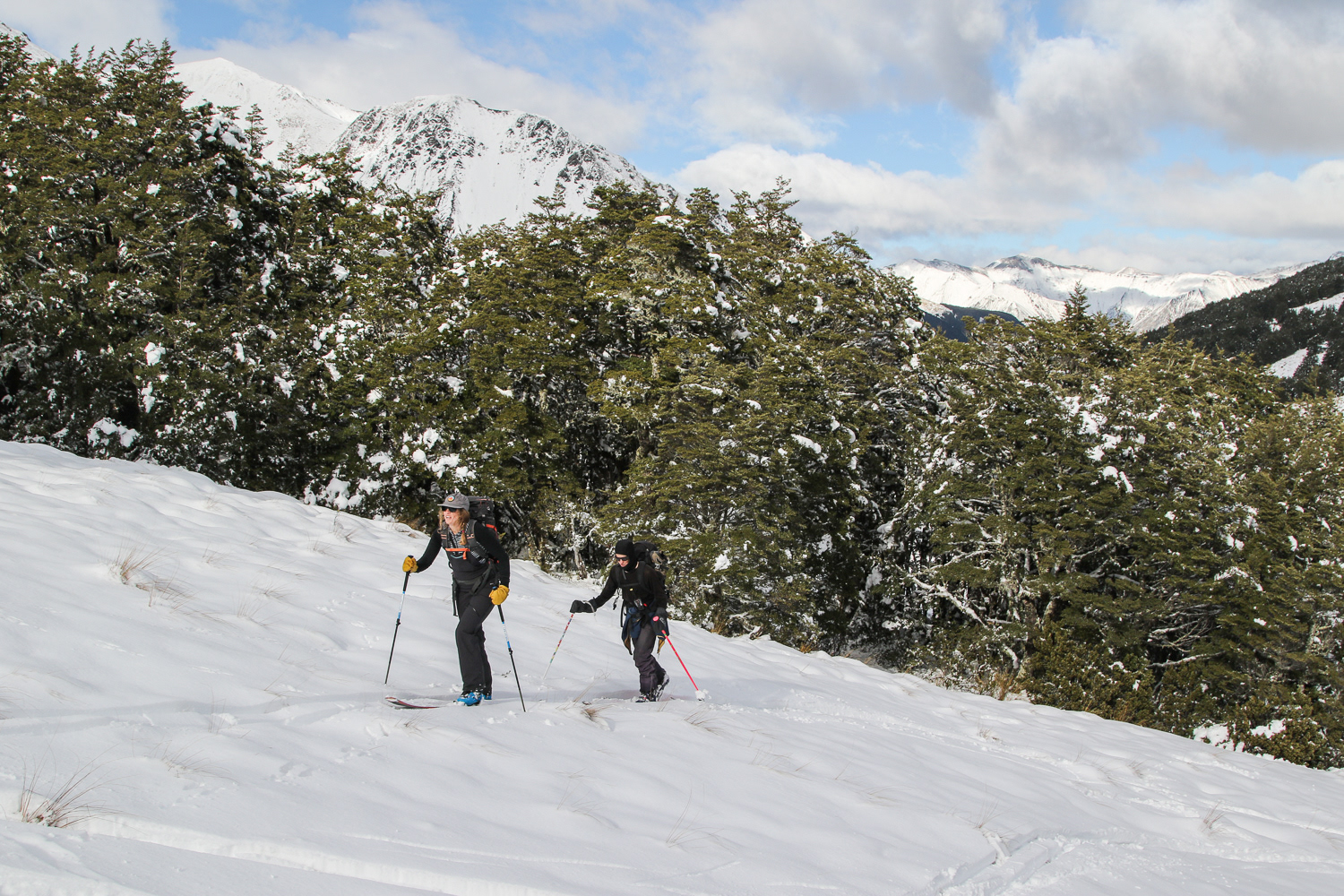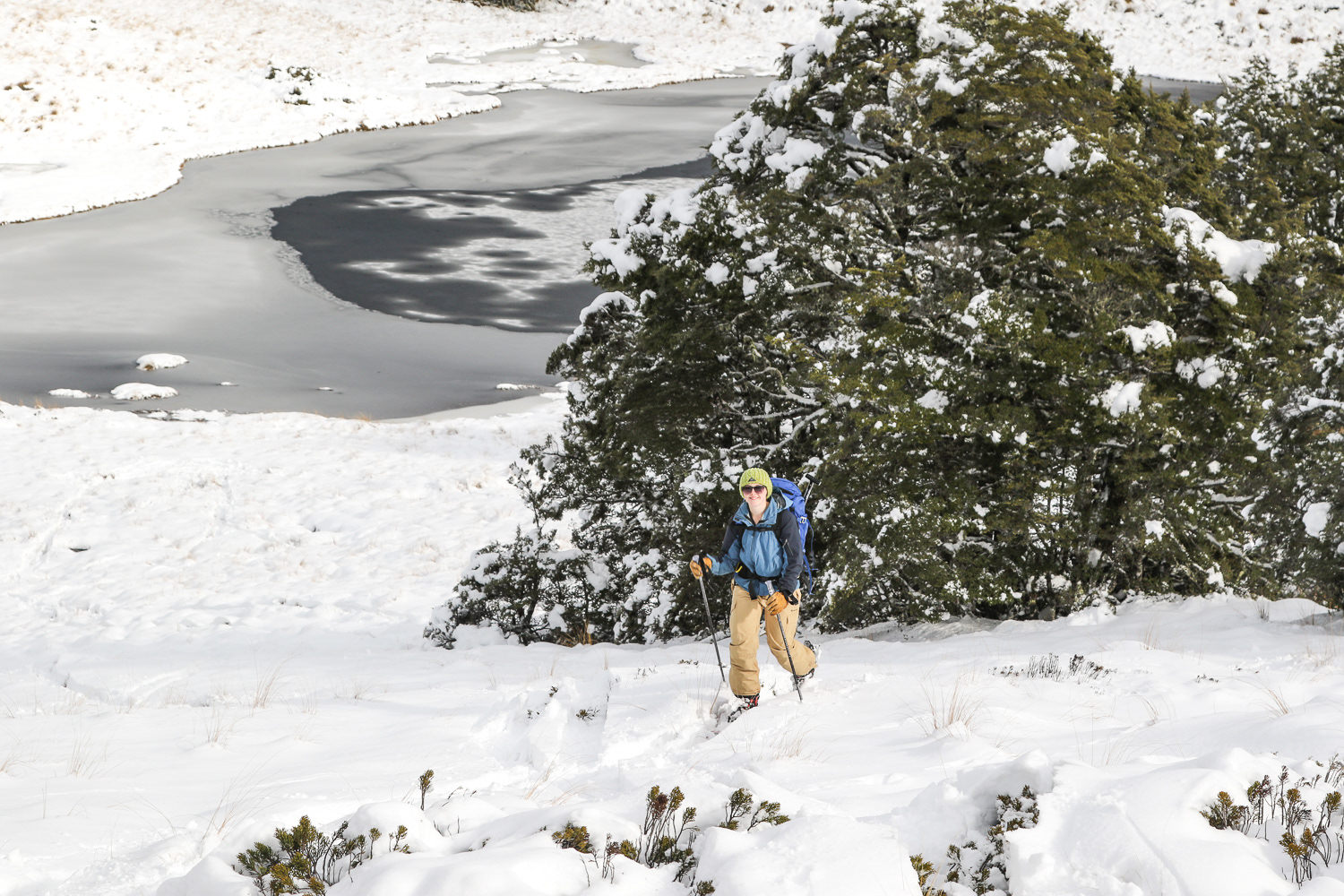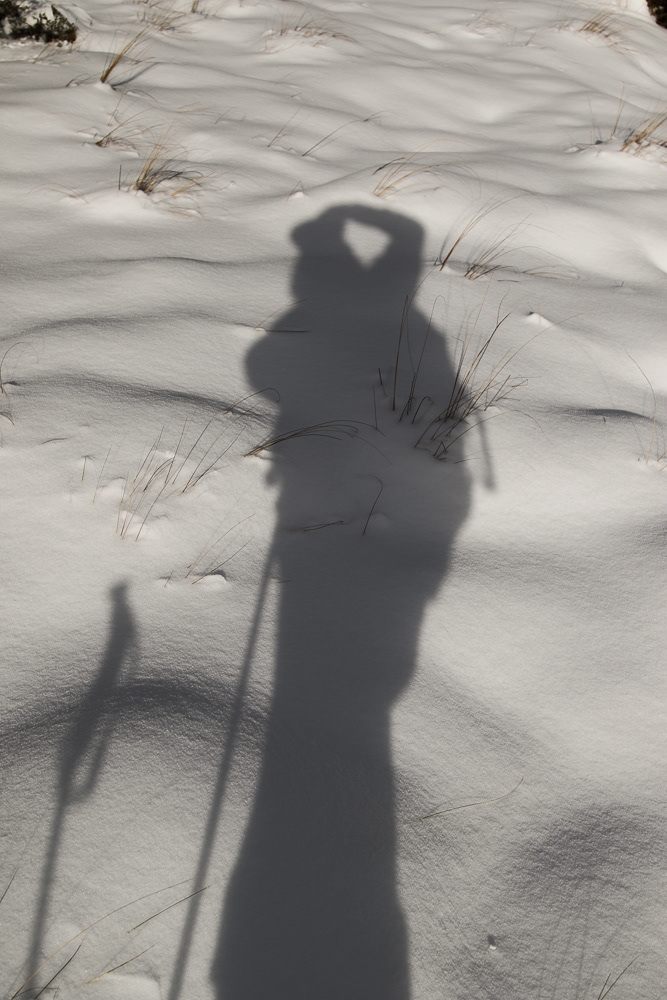 "It's the climb" - Miley Cyrus 
Half way to the top of Mt Bruce we reached a small plateau. The perfect opportunity to have a drink and take in this winter wonderland we found ourselves in!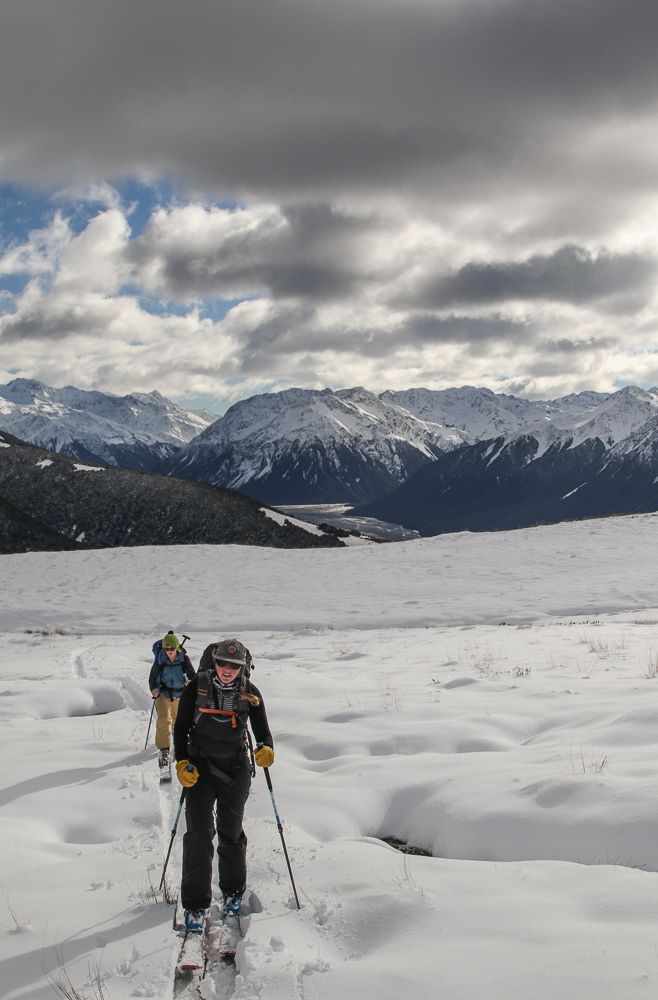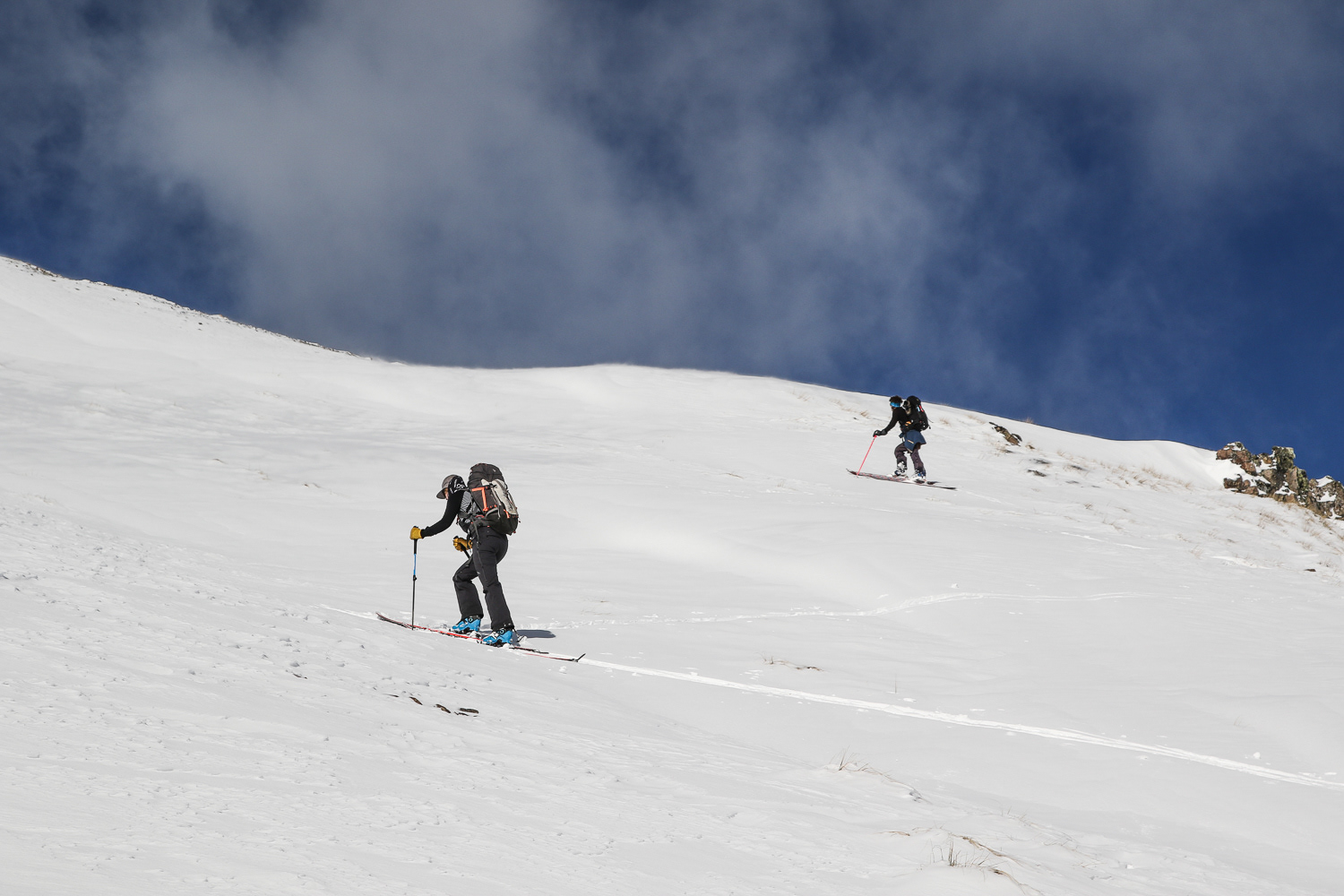 From that point on it were gale force winds and marginal skinning atop of thin, hard snow/ice to the top. The wind had left its mark on exposed faces revealing the mountain's rocky skeleton. A reminder of just how early in the season it was. Closer to the summit I decided to take my skis off, strap them back to my bag and boot-pack the final section. It proved to be an excellent terrain decision! I could now use the crops of rock to my advantage underfoot and was more balanced against the fierce wind. The summit ridge ended up being a rather abrasive affair, with loose snow and ice consistently hurtling into the right side of my face. Almost as if someone was firing a water-gun into my face at point-blank. How good is extreme weather though?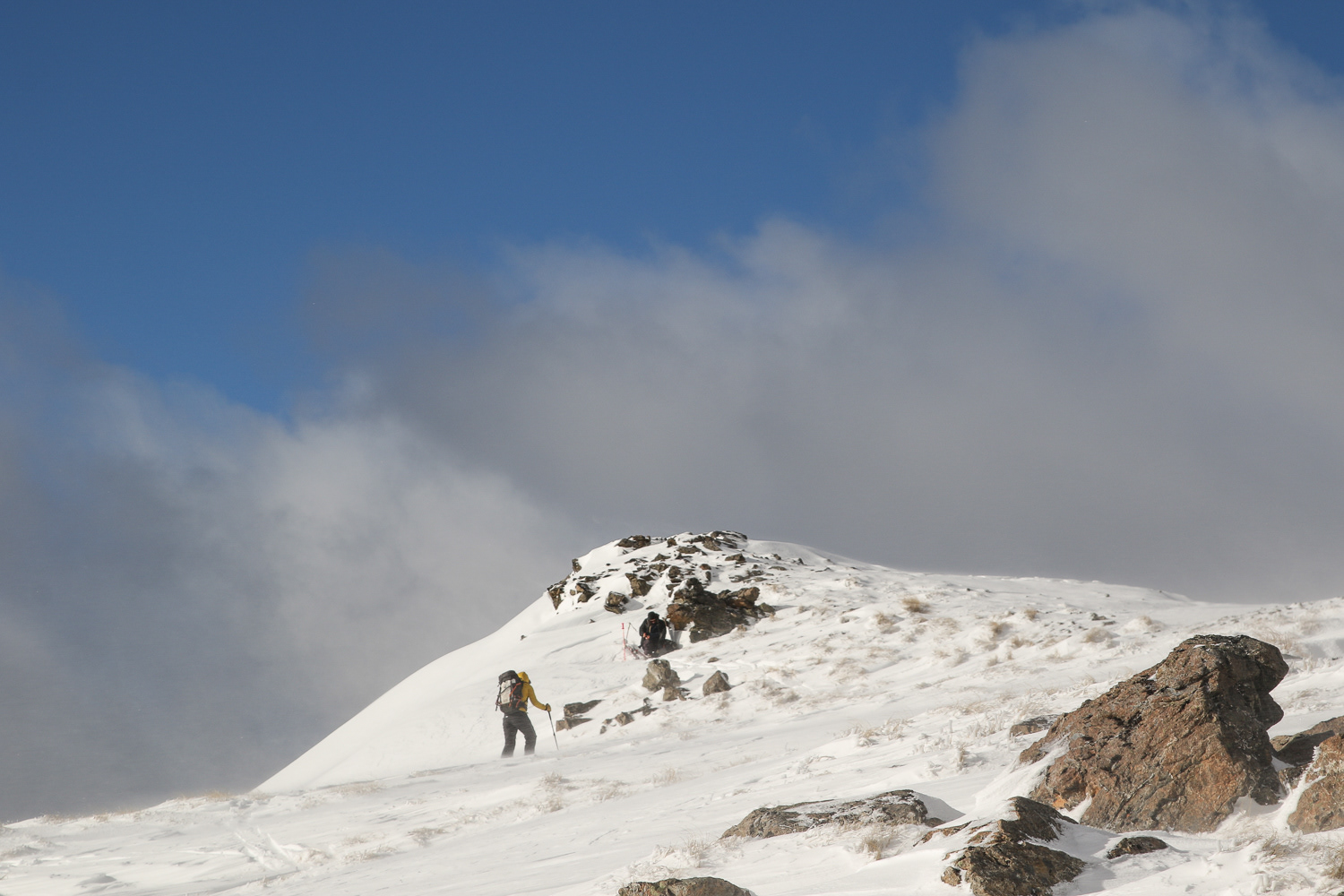 Troy shelters from the wind behind a rock as Ali closes in on the Summit.
The Waimakariri and surrounding valley in all her glory.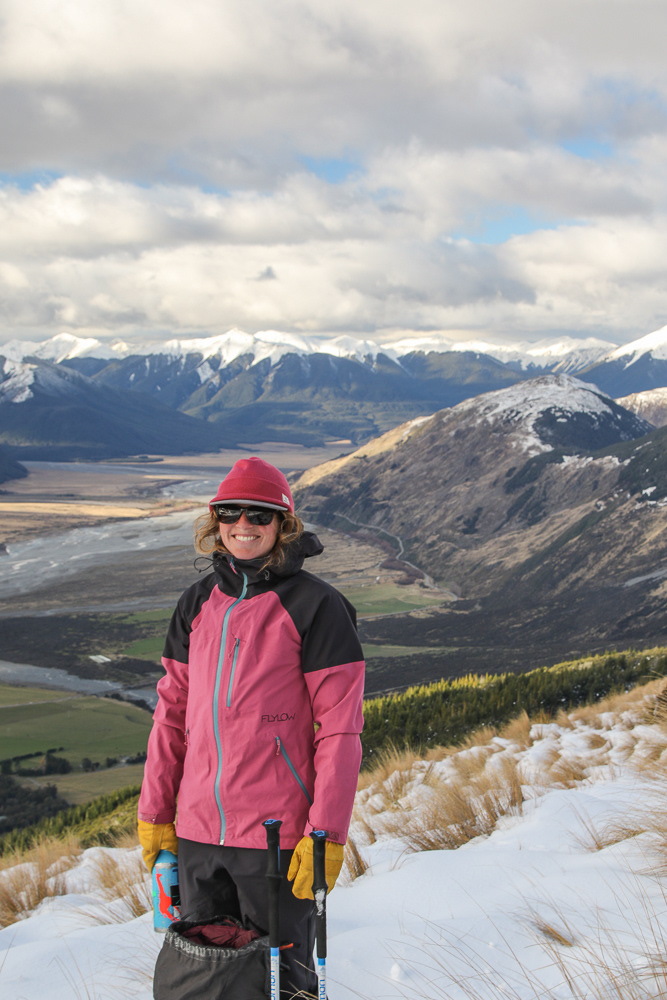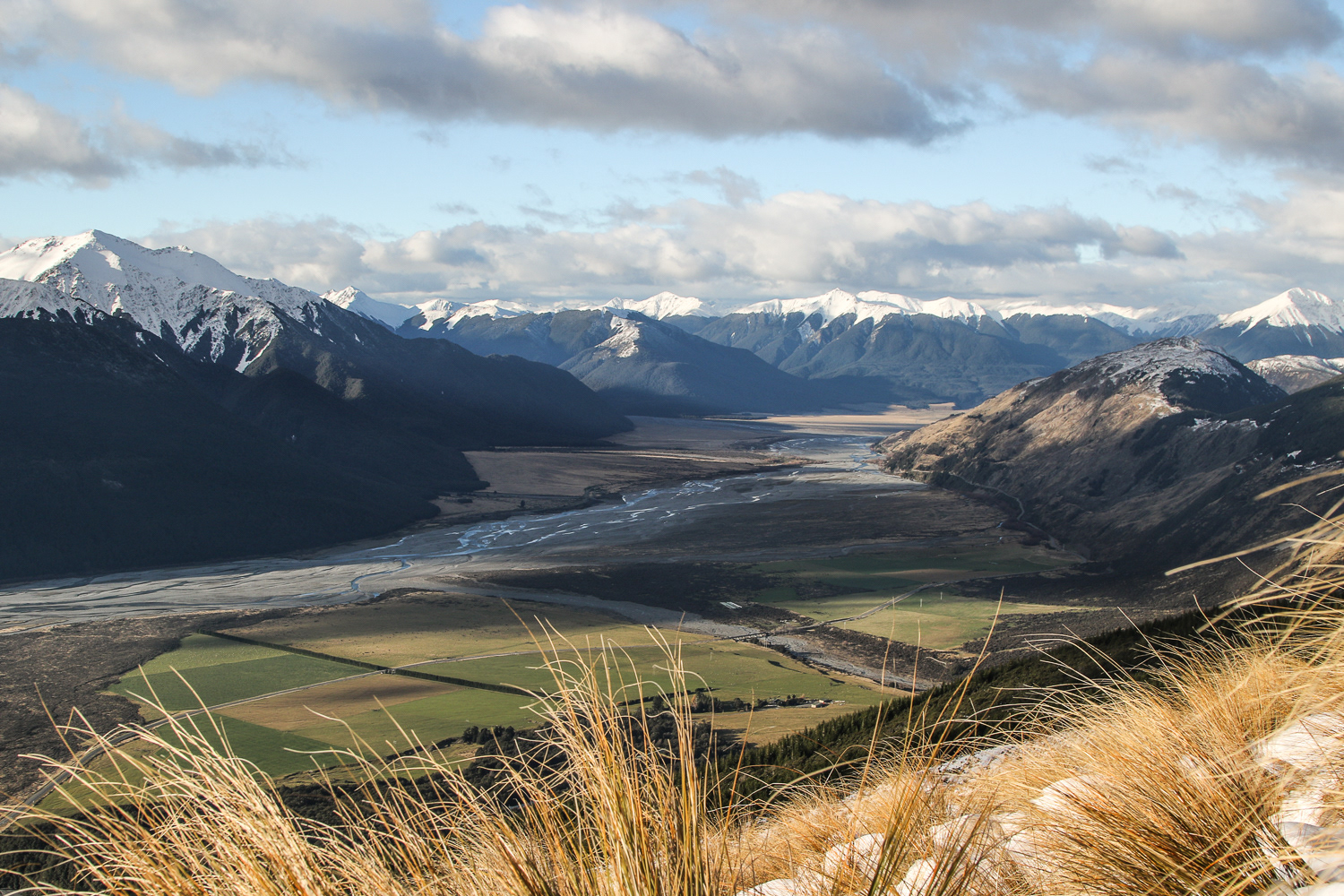 The smile of a lady who's just taken an hour off the walk time back to the car by absolutely sending down it tussocks.